Grant Professional Certification (GPC) Exam Prep Course Online Testimonials – Click the "play" and "fast forward" buttons…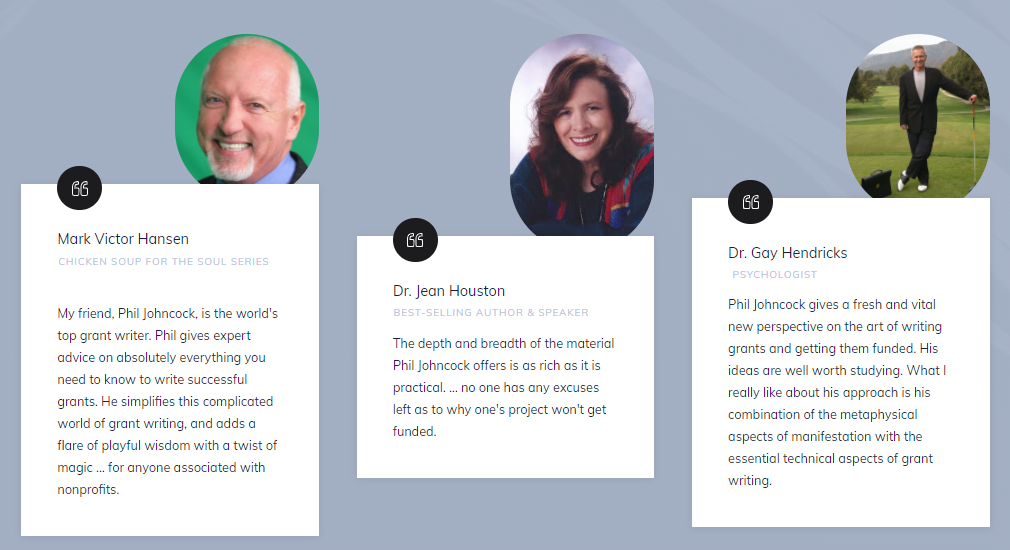 My friend, Phil Johncock, is the world's top grant writer. Phil gives expert advice on absolutely everything you need to know to write successful grants. He simplifies this complicated world of grant writing, and adds a flare of playful wisdom with a twist of magic … for anyone associated with nonprofits.
-Mark Victor Hansen, Best-Selling Author & Co-Creator of the Chicken Soup for the Soul Series
For many, the job of writing a grant proposal may be too daunting and technical. Phil Johncock breaks the job down into manageable, easy-to-digest chunks that are easy to understand and not technical. Finally, there is an author who gives us tools to see the grant writing process from both sides of our brains. He delves into how you can make right-brained and left-brained approaches to funders.
-Charity Channel, CharityChannel.com
The depth and breadth of the material Phil Johncock offers is as rich as it is practical. … no one has any excuses left as to why one's project won't get funded.
-Dr. Jean Houston, Best-Selling Author of A Passion for the Possible and Jump Time
Phil Johncock gives a fresh and vital new perspective on the art of writing grants and getting them funded. His ideas are well worth studying. What I really like about his approach is his combination of the metaphysical aspects of manifestation with the essential technical aspects of grant writing.
-Dr. Gay Hendricks, Best-Selling Author of Conscious Living, Five Wishes & Conscious Loving